2019 Diamond
DA62
CALL
DO NOT WAIT This one is available NOW! Ready to go! Gorgeous Austrian built. 100 hour inspection completed at the factory 200 hour inspection has been completed. Incredible aircraft burn 11.8 gallons per hour (TOTAL) at 190kts Under full factory warranty. Call us for more details.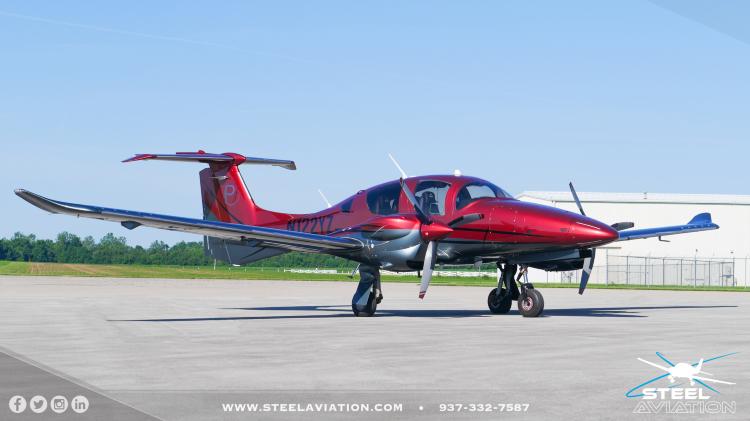 Aircraft Information
N122YZ
Airframe Total Times:
220
Avionics
Avidyne TAS 605 Traffic Advisory System
Dual Garmin GIA 63W with Integrated radio modules with WAAS-enabled IFR-approved GPS; VHF navigation with ILS; and VHF communication with 16-watt transceivers
Dual Garmin GIA 63W with Integrated radio modules with WAAS-enabled IFR-approved GPS; VHF navigation with ILS; and VHF communication with 16-watt transceivers
Garmin 7 Place Intercom System
Garmin FliteCharts (subscription required)
Garmin GDU1040, 10 Inch Multi Function Display (MFD), Moving map, Terrain, Traffic, Obstructions, EFIS, Flight Planning, Airport Data, GPS Satellite Data, Multi-Function Menus
Garmin GDU1040, 10 Inch Primary Flight Display (PFD), Wide Horizon, Three-Axis Flight Dynamics, Air Speed, Altitude, Vertical Speed, Horizontal Situation Indicator (HSI) with 350-Degree and Arc Modes
Garmin GEA 71 Airframe/Engine Interface Unit
Garmin GFC 700 Automatic Flight Control System (AFCS) including 2-axis digital autopilot with Flight Director
Garmin GTX 33ES (ADS-B Out)
GFC 700 Flight Director
GMA 1347 digital Audio Controller with Digtal ATC Playback
Equipment
Garmin GRS 79 Attitude Heading Reference System
Garmin NXI Glass Cockpit
Garmin GDC 72 Digital Air Data Computer
Garmin GMU 44 Magnetometer
Yaw Damper
Garmin GTX 335R Mode S Transponder (ADS-B Out)
ELT 406 MHz
Garmin FliteCharts Approach Plates
2nd Digital Standby Attitude Module (MD-302 SAM)
Composite Cabin and Safety Seats (up to 26G)
FAILSAFE Airframe and Wing Design
Multipath Lightning Protection System
3 Point Safety Belts Automatic (all Seats)
Garmin ESP (Electronic Stability & Protection)
Adjustable Backrest (with adjustable lumbar support)
USB Power Outlets, pilot, copilot, passenger 2nd row
Instrument Lighting
Overhead ambient cabin, reading and map lights
Electronically Operated Adjustable Rudder Pedals
Pilot and Co-Pilot Middle Armrest
Dual Headset Blugs (6 Pin headset connector and standard jack connector)
Sunvisors for pilot and copilot
Hydraulic Retractable Landing Gear
Heated Pitot Tube and Static Port
High Gloss Multi Layer Paint
Black out handles and steps
Electrically Operated Flap System
Landing Light and Taxi Lights (HID-Xenon)
LED Integrated Position and Strobe Lights
86 US Gallons Long Range Fuel Tank
Nose Baggage Compartment Accessible from both Sides
Pitot Cover, Control Lock, Tow Bar, Tool Kit
First Aid Kit, Fire Extinguisher
Avidyne TAS 605 Traffic Advisory System
Garmin GWX 70 Weather Radar
Garmin GSR 56 Iridium Satellite Datalink
Garmin GCU 476 Keypad
Garmin Synthetic Vision Technology (SVT)
Garmin GDL69A SAT WX
Air Conditioning/RACC II System
TKS FIKI Deicing System
Oxygen System
Built In Tablet Mount Provisions
Professional Sunshades for PAX Row 2 and Row 3
Seating Configuration for 3rd Row
Diamond Metallic Paint
Exterior
Unique Diamond, gorgeous metallic red with, silver and black accents. Blackout package one of a kind. Exceptional in every way. Hangared and shows like new.
Interior
Interior is black carbon leather. Smells new, looks new. Gorgeous.