2006 Cirrus
SR-22 GTS
SOLD
Here it is low time, upgraded, with A/C! All AD's are in compliance. Excellent MX history. Always Hangared, originally in South Dakota, then Arizona now resides in St. Petersburg, FL. Call us for more details.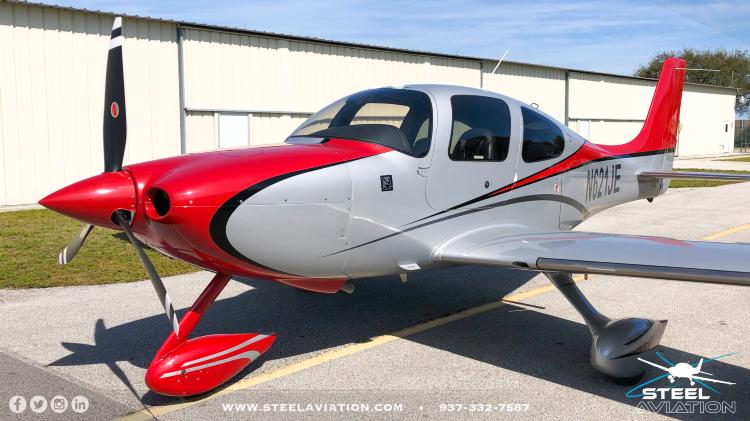 Aircraft Information
N621JE
Airframe Total Times:
693
Avionics
4 Place Intercom
Avidyne ADS-B APX322 Remote Transponder/MLB 100 ADS-B Datalink
Avidyne AMX240 BT Audio Panel
Avidyne DFC90
Avidyne DFC90 Digital Autopilot
Avidyne Entegra EX5000 MFD Rev 6.2.1
Avidyne Entegra Primary Color Flight Display (PFD)
Avidyne IFD440 Touch screen
Avidyne IFD540 Touch Screen
CMAX Chart View Electronic Approach Plates
E TAWS Enhanced Terrain avoidance system audible system and displays on MFD
EMAX Engine and Fuel Monitoring
Skywatch Active Traffic System
WX 500 Stormscope and XM Weather that Displays on MFD
Equipment
Cirrus Airframe Parachute System (CAPS)
Dual Alternators
Dual Batteries
TKS Deicing Coverage
Newer Paint
Touch Screen with Keypad
ADSB Compliant
Dual Caliper Beringer Brake and Tire Upgrade
Kelly Electric Air Conditioning System GROUND COOLING at the touch of a button (with plug in) 20 TEMP DROP in five minutes NO TAKE-OFF or IN-FLIGHT RESTRICTIONS DIGITAL TEMP DISPLAY - Set it and forget it ONLY 49 POUNDS
Hartzell Three Blade Propeller
Rosen Sunvisors
Tinted Windows
Amsafe Airbag Safety Restraints
Lopresti Ice Skates (8K Upgrade) Carbon fiber construction Large Air Valve Access Door Brake Cooling Duct New Stiffer Mounting Brackets Improved Materials Reduced Weight Easy installation All new parts FAA Approved
Tempest Starter
Reiff Engine Preheater
No Damage History
Always Hangared
Complete Logbooks
WAAS Upgraded
Cruise Speed
155 KPH
Fuel Consumption
13 gal. / Hour
Useful Load
980 Pounds
Exterior
Gorgeous new paint July 2017 all over Sterling Silver with Red and Black accents. Hangared and it shows very well.
Interior
Black leather interior in excellent condition. Black Alcantara headliner. Gorgeous.