2008 Diamond
DA40XLS
SOLD
Meticulously maintained 2008 DA40XLS. This aircraft comes loaded with Air Conditioning, G1000 Avionics including Dual 10" Displays, Additional Stand-by Alternator, Active Traffic, Composite Constant Speed 2 Blade Prop, SVT (Synthetic Vision Technology), Garmin Safe Taxi, Garmin Flight Charts, Amsafe Airbag Seat Belts, XM Weather and Audio, Enlarged Bubble Canopy, Extended Range 50 Gal Fuel Tanks, Garmin TAWS B Terrain Awareness System, Performance Landing Gear Kit, and much more. Call us for all the details on the incredible aircraft. Hobbs time 930 hours Tach time 767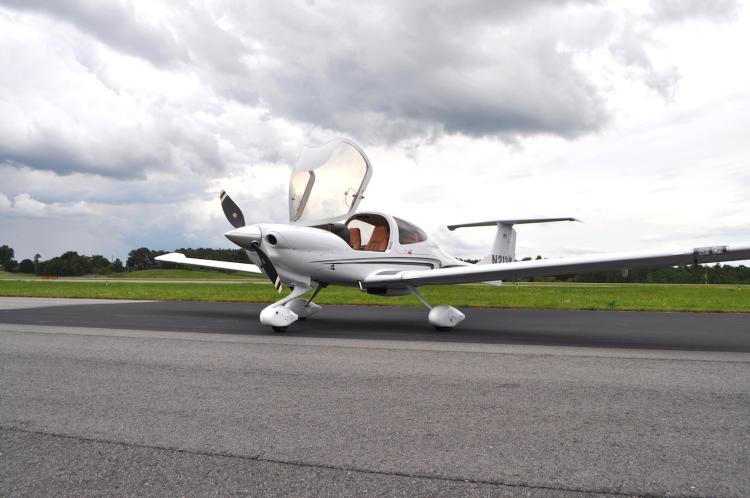 Aircraft Information
N212JK
Airframe Total Times:
767
Location:
Dayton, OH / KDAY
Avionics
Avidyne TAS 600 Active Traffic System
Garmin 4 Place Built in Intercom
Garmin FliteCharts (subscription required)
Garmin GDU1040, 10 Inch Multi Function Display (MFD), Moving map, Terrain, Traffic, Obstructions, EFIS, Flight Planning, Airport Data, GPS Satellite Data, Multi-Function Menus
Garmin GDU1040, 10 Inch Primary Flight Display (PFD), Wide Horizon, Three-Axis Flight Dynamics, Air Speed, Altitude, Vertical Speed, Horizontal Situation Indicator (HSI) with 350-Degree and Arc Modes
Garmin GEA 71 Airframe/Engine Interface Unit
Garmin GFC 700 Automatic Flight Control System
Garmin GTX33 Intregrated Mode S Transponder with Traffic Info
Garmin TAWS-B Terrain Awareness System
GIA63 Integrated radio modules with IFR approved GPS; VHF navigation with ILS; and VHF communication with 16-watt transceivers
GIA63 Integrated VHF/COM/NAV/GPS
XM Weather Displays on MFD
Equipment
WAAS enabled dual GPS allows fully coupled ILS or WAAS approaches with audible ?Minimums? callout and VNAV coupled step-downs
Performance Landing Gear
4 Way Baggage Compartment
Extended Range Tanks (50 Gallons)
Airbag Seat Belts
Electric Rudder Pedals
Power Flow Exhaust
Cabin Cool Air Conditioning
Cruise Speed
145 KPH
Fuel Consumption
10 gal. / Hour
Useful Load
740 Pounds
Exterior
N212JK has always been hangared and washed/waxed on a monthly basis. White with Charcoal and silver accents. Shows very well.
Interior
This aircraft features the Premium Interior Package in Curry Leather. Adjustable Electric Rudder Pedals, Air Conditioning, and XM Audio.