2018 Diamond
DA62
$1,424,930
Here it is.....Diamonds new DA62. A very capable aircraft, with a cutting edge design. Dual Austro powered diesel engines that burn under 12 gallons per hour total! A huge range due to the low fuel burn, and Garmin state of the art G1000 NXi in the panel. Having a plane like this is as close as you will ever get to owning your own magic carpet. Call us to learn more!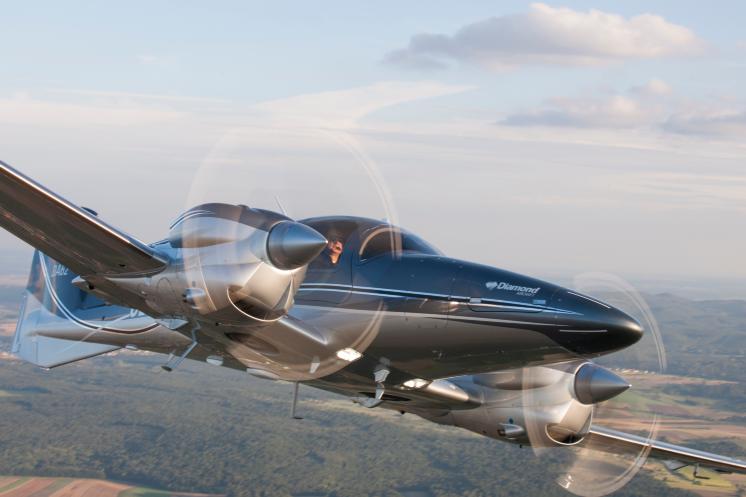 Aircraft Information
N12SA: Pre-Owned
Location:
London, ON / Canada
Avionics
Avidyne TAS 600 Active Traffic System
Dual Garmin GIA 63W with Integrated radio modules with WAAS-enabled IFR-approved GPS; VHF navigation with ILS; and VHF communication with 16-watt transceivers
Dual GIA63 Integrated VHF COM/NAV/ILS/GPS
G1000 12" MFD
Garmin 7 Place Intercom System
Garmin FliteCharts (subscription required)
Garmin G1000 NXi
Garmin GEA 71 Airframe/Engine Interface Unit
Garmin GFC-700 Automatic Flight Control System Including Yaw Damper
Garmin GTX 33ES (ADS-B Out)
Garmin GWX 70 Weather Radar
Garmin integrated VFR Terrain Awareness System
GFC 700 Flight Director
GRS77 Solid-State Attitude and Heading Reference System
Equipment
Garmin GRS 77 Attitude Heading Reference System
Garmin GDC 74 Digital Air Data Computer
Austro AE330 Engines
Garmin GFC700 Digital Autopilot
WAAS
Radar
Digital Air Conditioning
Flight Into Known Icing Certified FIKI
Jet A Fuel Technology
FADEC
7 Seats
Ultimate in Luxury
Spacious Cabin
MT Three Blade Propellers
86 Gallons Long Range Tanks
Nose Baggage Compartment Accessible from both sides
Pitot Cover
Tow Bar
Tool Kit
First Aid Kit
Fire Extinguisher
Emergency Axe
Egress Hammer
Composite (26G) Seating and Cabin
Diamond
Multi Path Lighting Protection System
3 Point Safety Belts
Garmin ESP Protection System
Avidyne TWX670 Tactical Weather Detection System
Avidyne TAS605 Traffic Advisory System
Garmin GWX70 weather radar
Garmin GSR56 iridium satellite data link
Garmin GTX33 ES ADS-B Out (replaces Garmin GTX33)
Jeppesen ChartView Approach Plates
Garmin Synthetic Vision Technology
Garmin GDL69A SAT WX
Air Conditioning / RACC II system (powered by an additional alternator)
Oxygen System
Metallic Paint
3rd Row Seating Configuration
3rd Row Seating Configuration
Cruise Speed
KPH
Fuel Consumption
gal. / Hour
Useful Load
Pounds
Exterior
All over Metallic Red Gorgeous aircraft.
Interior
Interior is buttery Anthracite gray leather. The cabin is spacious, seating for 7 people, excellent for business or pleasure.