2004 Diamond
DA 40
SOLD
Lots of nice upgrades with this DA40. Diamonds safety record is unmatched in the industry. The efficiency of this aircraft is also unrivalled. This DA40 is exceptional in every way. Harder and harder to find a nice DA40 this one should be at the very top of your list! Call us!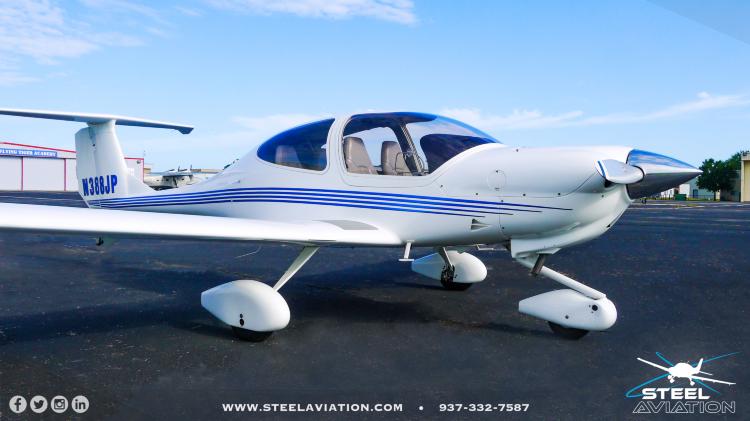 Aircraft Information
N388JP
Airframe Total Times:
1075
Location:
Conroe, TX / CXO
Avionics
Dual Garmin GIA 63W with Integrated radio modules with WAAS-enabled IFR-approved GPS; VHF navigation with ILS; and VHF communication with 16-watt transceivers
Dual GIA63 Integrated VHF COM/NAV/ILS/GPS
Garmin 4 Place Built in Intercom
Garmin FliteCharts (subscription required)
Garmin GDL69A Satellite Dat Link
Garmin GDU1040, 10 Inch Multi Function Display (MFD), Moving map, Terrain, Traffic, Obstructions, EFIS, Flight Planning, Airport Data, GPS Satellite Data, Multi-Function Menus
Garmin GDU1040, 10 Inch Primary Flight Display (PFD), Wide Horizon, Three-Axis Flight Dynamics, Air Speed, Altitude, Vertical Speed, Horizontal Situation Indicator (HSI) with 350-Degree and Arc Modes
Garmin GTX330 Mode S Transponder with Traffic
GIA63 Integrated radio modules with IFR approved GPS; VHF navigation with ILS; and VHF communication with 16-watt transceivers
GMA 1347 Digital Audio Controller
Honeywell KING KAP 140 AutoPilot w/Altitude Hold and Preselect, Heading, NAV, GPS, APR Tracking
Equipment
XeVision HID Landing Lights
4 Way Luggage System/Ski Tube
Secondary Static Ports
Gross Weight Increase Completed
Custom Canopy Cover Included
Synthetic Vision Technology SVT
GDC-74 Digital Air Data Computer
GRS-77 Attitude And Heading Reference System
Cruise at 140KTS on 9GPH
Best Safety Record in the Industry
Excellent Visibility
40 Gallon Tanks
Exterior
All over white with gorgeous blue accents. The plane has been hangared and it show very nicely.
Interior
Interior is gray leather also in great shape. Pride of ownership shows with this one.