Cirrus
STEEL EDITION SR22
SOLD
The Steel Signature Series we take an excellent airframe and refurbish it. Think high-end automobile restoration not just slapping some new cosmetics on it. If you cannot or do not want to afford a gorgeous new Cirrus aircraft, this is your next best option. You have an extreme amount of value built into this aircraft compare then call us. A limited number of these aircraft will be in production each year. These are handcrafted highly detailed renovations this is not a production finish aircraft we believe when spending this amount of money only the finest will suffice. Limited Editions these planes are exceptional in every way! Special financing rates for qualified buyers call to learn more!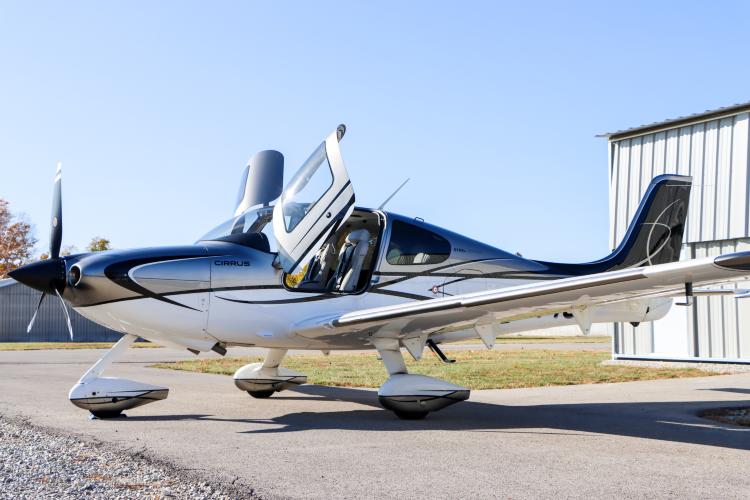 Aircraft Information
N67SA
Airframe Total Times:
3600
Avionics
Avidyne ADS-B APX322 Remote Transponder/MLB 100 ADS-B Datalink
Avidyne AMX240 BT Audio Panel
Avidyne DFC90 Digital Autopilot
Avidyne Entegra Primary Color Flight Display (PFD)
Avidyne FlightMax EX5000C Multi-Function Color Display (MFD)
Avidyne IFD440 Touch screen
Avidyne IFD440 Touch screen
CMAX Chart View Electronic Approach Plates
EMAX Engine and Fuel Monitoring
Flight Director
Garmin 4 Place Intercom
Skywatch Active Traffic System
WX 500 Stormscope and XM Weather that Displays on MFD
Equipment
Cirrus Airframe Parachute System (CAPS)
Dual Alternators (NEW)
Dual Batteries (NEW)
New Brakes
New Rotors
New Upgraded MCU Unit
New Tires
New SIU Unit
TKS Inadvertent Deicing Protection
Air Conditioning
Tinted Windows
Custom Paint Schemes
High End Leather Interiors
One Year Spinner to Tail Warranty
$99 per hour Steel Care Program Available
New Mags
ADSB Compliant 2020 Mandate Has been Completed
Bluetooth Push to iPad for Avidyne
Listen to Music in Cockpit via Bluetooth
Forward Looking Terrain FLT SVT
SVS Synthetic Vision
2004 Airframe Expertly Refinished. Even though it looks like one, it is not a G5 or G6
WAAS installation completed the CORRECT way no VELCRO here guys!
Whelen Orion LED Lights Nav/Strobe/Position Lights
Custom Floor Mats
Larger Upgraded Air Vents for better airflow
New Tempest Power Flight Starter (allows the plane to be cold started much easier)
New Alternator #1
Alternator #2 was Overhaul by the Manufacture
New Engine Rubber Mounts (Less Vibration)
New DFC90 Autopilot with Straight and Level Button Under Full Warranty
New Avidyne Avionics Under Full Warranty
New/OH Muffler and Heat Exchangers
New Battery #2
New Battery #1
New Fuel Hoses
All Mandatory SBs are in compliance many non mandatory ones have also been completed All AD's are in compliance
Semi Portable Oxygen
Custom Steel Edition Instrument Panel
0 To Factory New Limits Engine with New TCM Nickel Cylinders Full Warranty
Steel One Year Spinner to tail warranty AVAILABLE FOR $19,900.00 however most components are under manufactures warranty for some time period.
Exterior
The paint not your typically aircraft finish. This plane has been restored from the ground up. Skyscapes by Sherwin Williams paint Sterling Silver, Imperial Red, with black accents. Cleared with several layers to allow an in-depth glossy mirror-like shine. Run your hands along it and all paint NO DECALS, I am sure you will gain a few knots without the drag. It does not get much better than this guys. This plane will turn heads!
Interior
Interior has been refurbished complete with new foam and padding making these Cirrus seats a dream to sit in, gorgeous leather with beautiful detailing complete with matching blue stitching. Think luxury automobile. It is exceptional. Enjoy that new plane smell without the cost.