2019 Diamond
DA62
$1,476,610
This plane is everything you could want in an aircraft. A gorgeous highly accessible spacious cabin, low fuel burn and maintenance costs you can have it all in an aircraft! Includes Garmin latest greatest G1000 Nxi Panel. This is the perfect plane to build twin time as you step into the jet world and beyond. Call us to discuss this cutting edge aircraft. Steel Sells Diamonds.....call us for awesome finance rates on a DA62!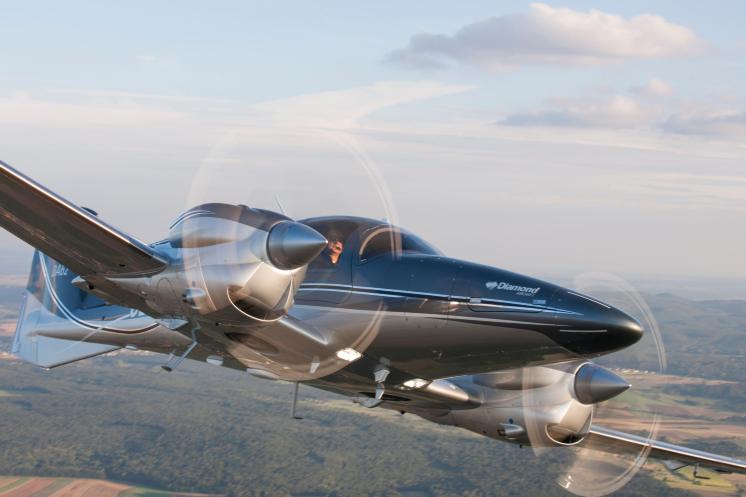 TBD: Pre-Owned
Exterior:
Gorgeous exterior design. High-quality finishes are used throughout this plane is all over anthracite and silver with black accents.
Interior:
Buttery tan leather. Highly appointed and comfortable. Think fine German automobile finish. Just Gorgeous.
Avionics
Dual Garmin GIA 63W with Integrated radio modules with WAAS-enabled IFR-approved GPS; VHF navigation with ILS; and VHF communication with 16-watt transceivers
Garmin 7 Place Intercom System
Garmin GDU1040, 10 Inch Multi Function Display (MFD), Moving map, Terrain, Traffic, Obstructions, EFIS, Flight Planning, Airport Data, GPS Satellite Data, Multi-Function Menus
Garmin GDU1040, 10 Inch Primary Flight Display (PFD), Wide Horizon, Three-Axis Flight Dynamics, Air Speed, Altitude, Vertical Speed, Horizontal Situation Indicator (HSI) with 350-Degree and Arc Modes
Garmin GEA 71 Airframe/Engine Interface Unit
Garmin GFC-700 Automatic Flight Control System Including Yaw Damper
Garmin GTX 33ES (ADS-B Out)
GFC 700 Flight Director
GMA 1347 digital Audio Controller with Digtal ATC Playback
Equipment
Garmin GRS 77 Attitude Heading Reference System
Garmin GDC 74 Digital Air Data Computer
Garmin GMU 44 Magnetometer
2nd Digital Standby Attitude Module (MD-302 SAM)
Composite Cabin and Safety Seats up to 26g
Garmin GCU 476 Keypad
Multipath Lightning Protection System
3 Point Safety Belts Automatic (all seats)
Garmin ESP (Electronic Stability Protection)
Electrically Adjustable Rudder Pedals
Power Outlet
Instrument Lighting
Adjustable Pilot and Copilot Seats with Adjustable Lumbar Support
Overhead Ambient Cabin Lighting with Reading and Map Lights
Middle Armrests
Hydraulic Retractable Landing Gear
Heated Pitot Tube
Entry Steps and grips
Electrically Operated Flap System
Landing and Taxi Lights (HID Xenon)
LED Integrated Position and Strobe Lights
88 Gallons Long Range Fuel
Baggage Compartment
Nose Baggage Compartment Accessible from both sides
Pitot Cover, Tow Bar, Tool Kit
First Aid, Fire Extinguisher, Emergency Axe, Egress Hammer
Avidyne TWX670 Tactical Weather Detection System
Avidyne TAS 605 Traffic Advisory System
Garmin Synthetic Vision Technology SVT
Garmin GWX 70 Weather Radar
Garmin GSR 56 Iridium Satellite Datalink
Jeppesen ChartView Approach Plates
Garmin GDL69A Satellite Weather
Air Conditioning/RACC System powered by an additional Alternator
FIKI Deicing System
Oxygen System
3rd Row Seating
Dual Turbo Charged Austro AE300 Jet Fuel Piston Engines
Burns ONLY 17.1 Gallons of Jet A at high cruise of 192 KTS
All representations in this advertisement are made by Seller. Steel Aviation has not inspected the aircraft or its logbooks, and strongly suggests that any Buyer arrange for a comprehensive pre-buy inspection of the same.
---